Obituary: Bob Alexius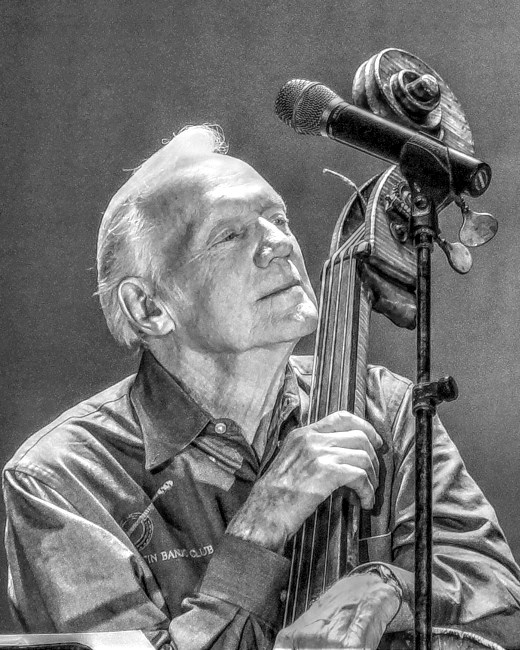 Posted Date: August 16 2019
It is with a heavy heart that we inform you of the passing of Dr. Robert "Bob" Alexius. He was a dedicated member of Local 433 for 50 years and AFM member for almost 70 years. He was an accomplished bassist playing in studios, clubs, symphony orchestras and concerts and with the likes of Jerry Lee Lewis, Elvis Presley and many more. He will always be remembered by his wife, children, grandchildren, great-grandchild, siblings, extended family and the music community.
Visitation will be held on Sunday, August 18th from 3:00-5:00PM at Cook Walden/Forest Oaks Funeral Home and Memorial Park (6300 West William Cannon Dr, Austin, TX 78749).
The funeral service will be held on Monday, August 19th at 1:00PM at St. James Episcopal Church (1941 Webberville Rd, Austin, TX 78721).
In lieu of flowers, memorial donations be made to:
The American Banjo Museum
9 E. Sheridan Ave.
Oklahoma City, OK 73104
Austin Banjo Club
www.austinbanjoclub.org
Austin Traditional Jazz Society
P.O. Box 27694
Austin, TX 78755-7694
By Nicole Bogatz

From AustinJazzWorkshop.com
http://www.austinjazzworkshop.com/mel/bios.html
"Robert Alexius (tuba, bass) began his professional music career in New Orleans in 1951. Over the course of almost fifty years, he has played with such greats as Elvis Presley, Floyd Kramer, Boots Randolph, and Jerry Lee Lewis, as well as eleven seasons with the Memphis Symphony Orchestra. Since retiring from the Texas Education Agency in 1993, Mr. Alexius continues to play tuba and bass locally with the Old Waterloo Jazz Band, the Big Band Sound of Austin, and numerous others."
From AustinBanjoClub.org
http://austinbanjoclub.org/people.html
"Bob Alexius, a New Orleans native, has been playing music since 1951. He has played in symphony orchestras and bands such as Stan Kenton, Buddy Morrow, and Les Elgart. He played with Jerry Lee Lewis and one gig with Elvis Presley before earning a PhD and moving into education. Bob retired in 1993 and played on the Delta Queen steamboat unil 1998. Bob is our principal tuba player and is widely sought at banjo festivals for his ability to accompany solo players on either tuba or standup bass. "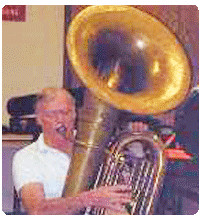 From DignityMemorial.com
https://www.dignitymemorial.com/obituaries/austin-tx/robert-alexius-8820841
"He was born in 1934 in downtown New Orleans, La., to Carl and Myrtle Sulfstede Alexius. He and his 4 brothers and sisters, CJ, Elaine, Richie, and Gerry, grew up in a very loving home filled with music and laughter. After high school he enrolled into LSU, where he first studied engineering, but quickly realized that music was his real calling. During his studies at LSU, he was drafted into the army, where, although trained for a morse code instructor, he almost immediately became part of the army's "2nd Army Showmobile", playing bass and singing for entertainment of troops and political functions throughout the country. He often recalled that Richard Nixon was a very gracious listener. In 1959 he earned his BA in music in LSU...
...He worked for 20 years as a musician, playing in studios, concerts, clubs, symphony orchestras, as well as with the likes of Elvis Presley, Stan Kenton, Paul Whiteman, Floyd Cramer, Jerry Lee Lewis, Pete Fountain, on the Ed Sullivan Show, and too many others to name. His love was the upright bass, but later in life he taught himself to play the tuba and spent 30 years playing with banjo groups and organizations throughout the country. These were some of the best times of his life, as he loved the friends and fellowship and world-class musicians offered by these close-knit groups. He was asked and accepted to be on the Board of Directors for the very respected American Banjo Museum in Oklahoma City."