Feel The Love Expo 2019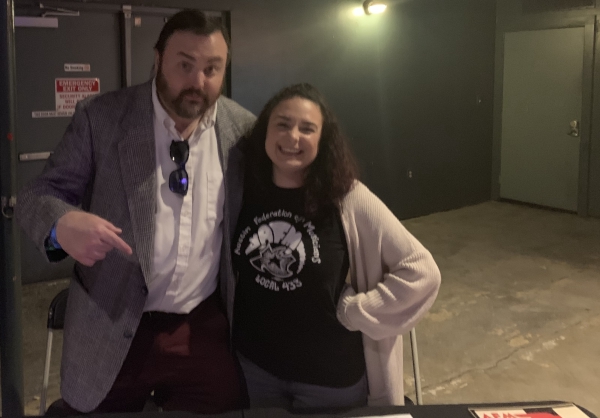 AFM Booth at Austin Music Foundation's Feel The Love Expo February 19th, 2019 Austin Federation Of Musicians members, Nicole Bogatz and Aaron Lack, staffed a booth at The Austin Music Foundation's Feel The Love Expo held at Emo's from seven to ten pm on February 19th, 2019. The event provided a forum for professionals in the music industry to connect with local music support organizations and their peers while learning about available community resources. The event was free and open to the public with an RSVP.
Lack and Bogatz collected contact information from potential new members and handed out business cards and literature to interested attendees throughout the entire event. Great conversations swirled around the booth about the many benefits of membership in the AFM and the benefits of the union's presence in the community. Local 433 member and Austin Music Foundation Board Member, Bruce Hughes, stopped by the booth and sparked discussion about his union involvement throughout his career. J.W. Riza, member of Local 433 and Local 257, was in attendance and fielded questions from other attendees about his union participation and the benefits of membership. The evening was productive in multiple ways and the new contacts made have continued to raise the community profile of The Austin Federation Of Musicians.
Participating organizations included:
Arts and Entertainment Legal Clinic
Austin Community Radio KAZI 88.7 FM
Austin Federation of Musicians
Austin Music Foundation
Austin Music People
Beyond the Grade
Black Fret
Care2Rock
Dub Academy
Earth Day Austin
EQ Austin
Health Alliance for Austin Musicians (HAAM)
Indian Classical Music Circle of Austin (ICMCA)
Kids in a New Groove
KOOP 91.7 FM
KUTX 98.9
Mosaic Sound Collective
Rancho Alegre Radio
The Recording Academy, Texas Chapter
Recorders without Borders
SaulPaul Foundation
SIMS Foundation
Swan Songs
Texas Accountants and Lawyers for the Arts
Texas Music Museum
Texas Music Office
Women In Music ATX
(This project was supported in part by the Cultural Arts Division of the City of Austin Economic Development Department.)