Bud Light Summer Live Series Benefiting Austin Federation of Musicians
Posted Date: July 19 2017
Bud Light Summer Live Series Benefiting Austin Federation of Musicians
July 19, 2017
Bud Light Austin Presents Summer Live Series Featuring Black Joe Lewis & The Honeybears
Date: July 20th, 2017
Location: Austin American Statesman
305 S Congress Ave, Austin, Texas 78704
Time:
Happy Hour on the Patio: 5:00pm-7:00pm
Doors: 7:00pm
Concert: 8:00pm-11:00pm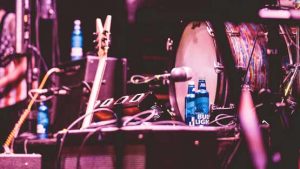 Organized by Bud Light, Summer Live Series is a local tavern-inspired concert series, exclusively created for Austin, TX. Once a month during the summer, the Austin-American Statesman Warehouse will be transformed to provide Austinites with a unique concert experience. What's better than food, beer & friends? This event will feature Black Joe Lewis & The Honeybears.
As part of this program, Bud Light is proud to announce that a percentage of the proceeds from this event will be donated to the Austin Federation of Musicians.
Heading to Bud Light Summer Live Series? Make sure to take RideAustin – your local nonprofit rideshare. RideAustin is a community-driven rideshare that allows you to 'Round Up' your fares to the nearest dollar, and donate the funds to your local charity of choice. The Austin Federation of Musicians is among the featured charities you will find in the RideAustin app, so if you're going to 'Round Up', please do so for the sake of keeping Austin the live music capital of the world! Stay safe, and if you're going to drink, make a plan to make it home with RideAustin!