2017 Congratulatory Year for Local 433 Fiddler Player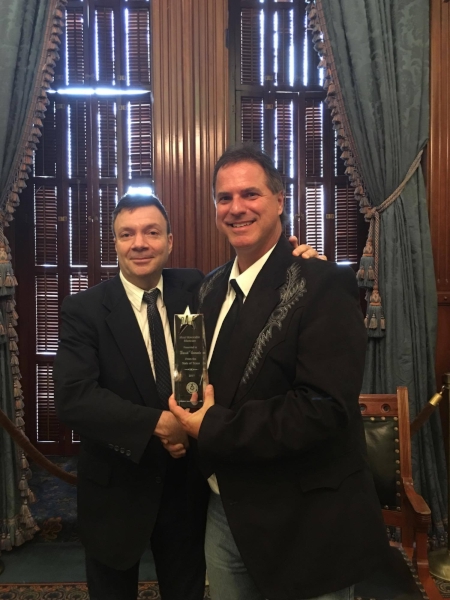 Posted Date: November 15 2017
2017 Congratulatory Year for Local 433 Fiddler Player
November 15, 2017
David Varnado began playing fiddle at the age of 4. By the time he turned 12, he was playing in clubs. Over the many years, David's love for the fiddle in Cajun, Country and Texas Swing has served him well. In David's most influential year's he was mentored by Rufus Thibodeaux, King of the Cajun Fiddlers, and later on he would be mentored by the legendary Johnny Gimble. He's had the privilege to play with Johnny Paycheck, Loretta Lynn, Chris LeDoux, Neal McCoy and Sammy Kershaw to name a few.
In October 2016 David received the Lifetime Achievement Award from the Cajun Music Association in Winnie, TX. As excited as he was to win this award, he had no idea that this would be the start filled with recognition and awards.
David started 2017 with a nomination from the Academy of Country Music Awards for Fiddle Player of the Year (he was also nominated in 2001). April 24th he received the American Fiddlers Association Legend Award in Amarillo, TX. On May 1st Vince Gill with Time Jumper honored David in a separate ceremony for the AFA Legend Award in Nashville. Nederland, TX Mayor, Dick Nugent, named June 12, 2017 as David Varnado Day. The State of Texas honored David in June with the Most Honorable Musician Award. In September the Texas Country Music Awards presented David with the Fiddler of the Year Award. He won this award by unanimous vote. This past October David took home the Johnny Gimble Ward for Fiddle from the Country Music Awards of Texas. To finish off David's winning year, he will be inducted in the Museum of the Gulf Coast in Port Arthur, TX on November 16.
Congratulations, David, on your well deserved accomplishments of the past year. We look forward to seeing what 2018 has to offer you.