Support Mariott Workers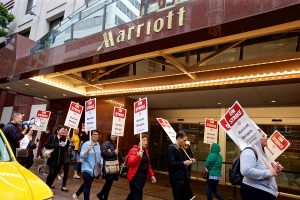 Posted Date: October 19 2018
Support Mariott Workers

October 19, 2018
Hardworking hotel employees tried to reach an agreement over months of negotiations, but Marriott refused to make significant progress on key issues like a living wage and safety on the job. Now more than 7,700 UNITE HERE! members are on strike.
Please join me in standing in solidarity with these women and men. There will be a #MarriottStrike Day of Action in cities around the country tomorrow, Saturday October 20th. Learn more here. You can also sign the pledge to stand with hotel workers in their fight for a better future.
If you're booked in one of the below hotels, please make alternate plans to not cross the picket line until the strike has ended.
Musicians and other working people standing together have the power to win!

In Unity,
Ray Hair
AFM International President